Little Rider Co Jersey Review – Mountain bikers of all ages wear long-sleeved jerseys in order to protect their arms and upper bodies while on the trails. That way, in case of a fall, they don't end up with severe road rash. The jersey provides some sun coverage as well, helping prevent sunburn. With that said, it's important that the jersey be lightweight enough to be comfortable and easy to movie in. The Little Rider Co. 'Classic' Jersey fits the bill quite nicely.
A Great Jersey for Young Mountain Bikers And BMX Kids

The Little Rider Co. 'Classic' Jersey in Stealth is dark gray with black markings and a white logo. It's designed for very young mountain bikers and comes in sizes two through five. The jersey is machine washable (a must, since it's made for performance) since it's made of lightweight polyester. It must be hung or laid flat to dry. One of the best things about it is the fact that it provides full coverage. The long sleeves and high neckline provide plenty of protection while allowing the rider to comfortably wear a helmet. Our review is centered on an item from the 'Classic' series. Little Rider Co also offers a 'Balance' series and a 'Signature' series. Be sure to check them all out.
The jerseys are not flimsy or hastily constructed. My wife and I have owned mtb jerseys that are outdone by the quality of the Little Rider Co. kids' jerseys. Just by running the fabric through my forefinger and thumb, I could tell that this falls into the category of Quality Goods. Firstly, the stitching on the inside of the jerseys is even and smooth. Secondly, the dye-sublimation for the graphics is sharp and bright. Thirdly, the elasti-cuff sleeves will help keep the cuffs in place on the rider's wrists. Finally, the color range for this jersey is shown below.

We had the opportunity to run into fellow #mtbfamily @pedaladventures in St. George recently. Their youngest son was taking a break from international traveling but was still for up slipping on one of these sweet looking jerseys. Now, you wish there was a Big Rider Co, right?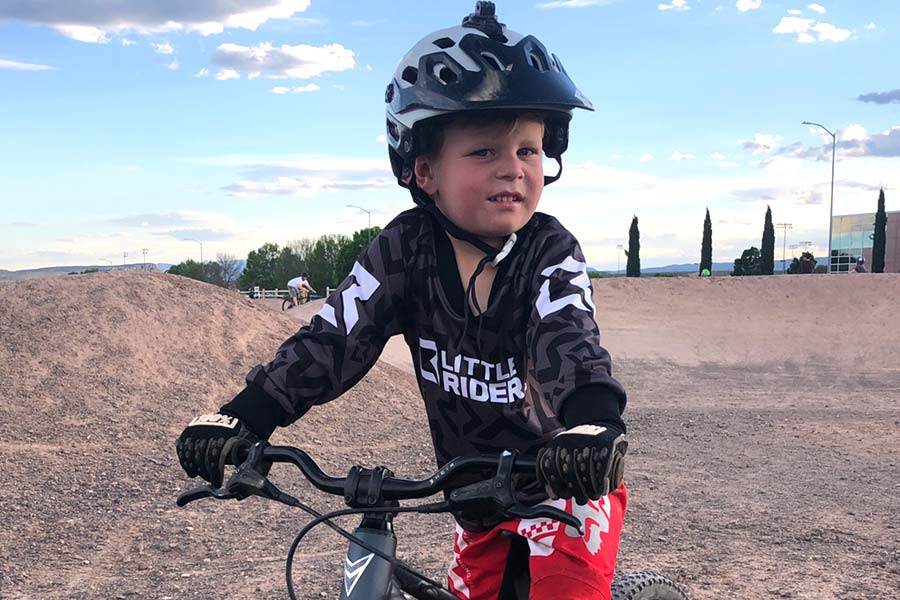 About The Little Rider Company

The Little Rider Company is a UK-based business that specializes in mountain biking products for kids between the ages of one and five. They were founded due to the lack of equipment available for children in that age range. Specifically, the ones who want to ride their mountain bikes alongside their parents or older siblings. They make jerseys, like the 'Classic' one reviewed here, as well as helmet bags, balance bike accessories, and other clothing.
Surprisingly, as this endeavor is rather new, your little one may be a candidate for the company's Little Rider Co Army. Take a look at their site and read the 'Little Rider Army' page to see if your womp rat is up for the job.
Will Little Rider Co ship to your corner of the world? Chances are pretty good. As per their website: We aim to ship to ALL international locations. Shipping times will vary depending on location. We will aim to package and ship your order within 1-3 days.
https://mtbwithkids.com/wp-content/uploads/2019/04/little-rider-co-jersey-review-featured.jpg
600
900
Brett
https://mtbwithkids.com/wp-content/uploads/2016/05/logo-mtbk-400-300x157.png
Brett
2019-04-30 15:49:38
2019-12-07 21:15:23
Little Rider Co Jersey Review