Mountain bike trails for kids in St George: The riding scene in the St. George area has developed into one the best places to mountain bike on the planet. Famously known for its proximity to the Red Bull Rampage events, the local trail group, bike shops, and other trail constructing individuals and local government entities have developed several areas where riding can be enjoyed by your entire family. Best of all this list is just scratches the surface for where you can ride. You can also take a look at our Gooseberry Mesa article.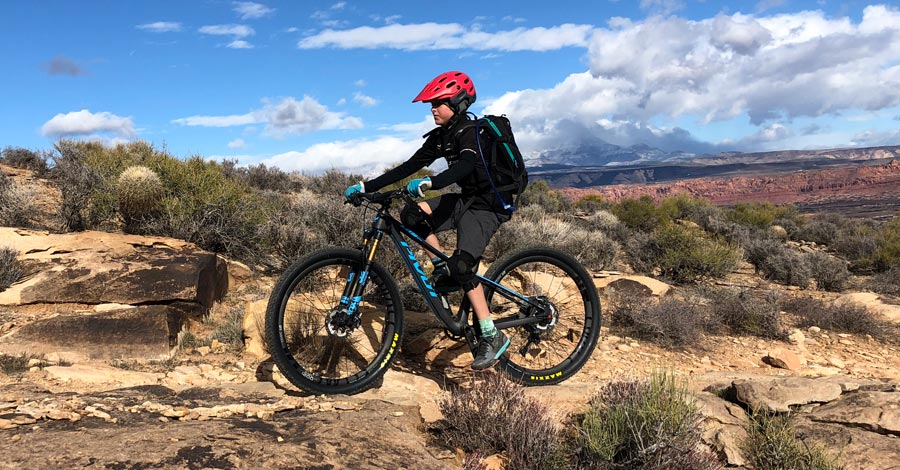 Please do your best to get current trail conditions by stopping by one of the local bike shops and speaking with staff. Chances are good that the people you speak with will have had a hand in building or maintaining the trails and they will be able to set you up with a great ride. Consider donating to the Dixie Mountain Bike Trail Association when you plan your visit, too. These guys are experts on mountain bike trails for kids in St George.
Be prepared with the proper clothing, protective gear, tools, food and water. Don't get caught off-guard when riding these areas. We always suggest that a responsible adult in your family with at least strong intermediate skills pre-ride each of these trails so you can properly gauge your family's abilities for technical features, attention span and distance. Also, some of these rides are accessed via dirt roads and take a bit of time to find for the first time. The same goes for route-finding. You can help ensure a good time when you share these trails with your clan by knowing the route. Often, there will be other riders around who can assist, but don't rely on this. It's up to you to make sure everyone has fun and stays safe.
The Bearclaw Poppy trail is best suited for mountain bikers with beginner through expert skills.
This trail is definitely one of our favorite mountain bike trails for kids in St George. Bearclaw Poppy will always be near-and-dear to our hearts because it's where our kids learned to ride their mountain bikes in the desert. Start on the Bloomington end [south of St. George] and make this trail as long as you like. This trail is directional, meaning that you pedal up on the south side of the trail and descend on the north side of the trail. Take a look at the map and you can see the "rungs" where you can bail-out if your young/novice kids have reached their limit.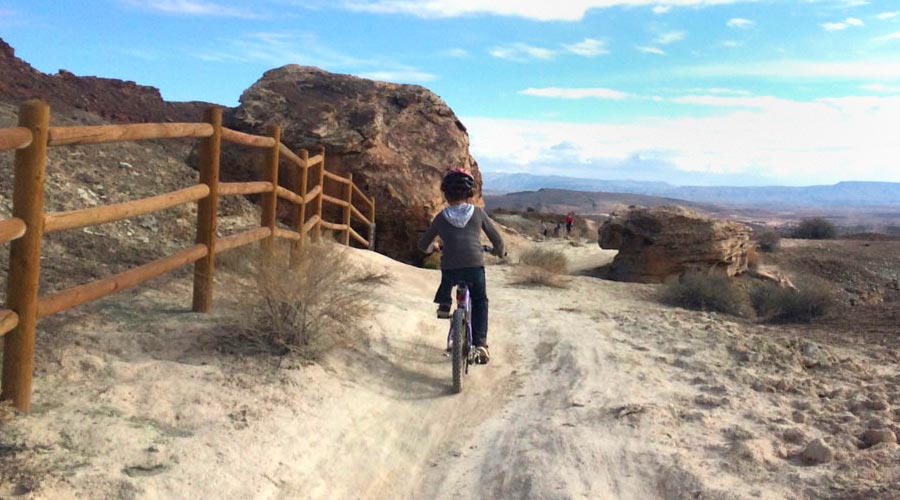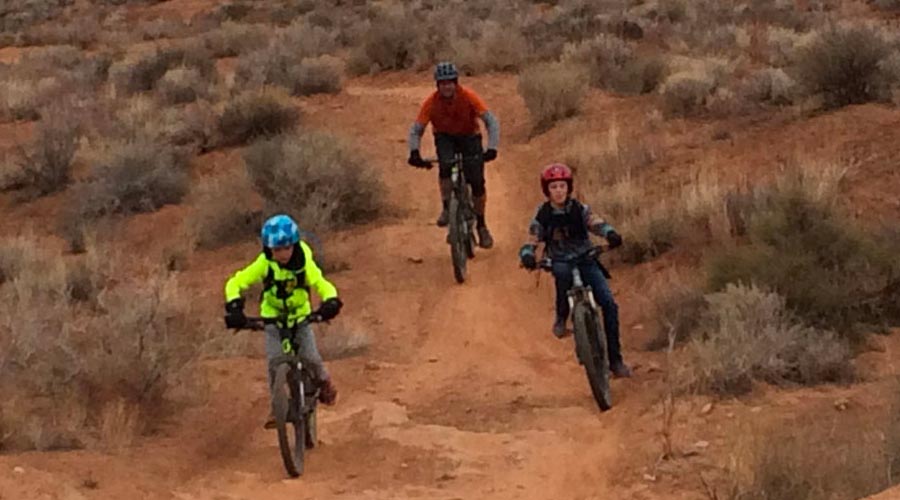 Once you're near the top of the directional section, you'll see some light colored hills called the "acid drops". These are great fun to roll down and jump once you're up to the task. If you can pedal to the top of the acid drops, consider yourself a fit rider.
After the acid drops you can continue towards Green Valley through a wash and head to the top of what's called the "Lion's Paw", "Clavicle Hill", or "Three Fingers Of Death". However long you choose to make this ride, be sure to return on the "downhill only" trail. It's a lot of fun.
The Snake Hollow Bike Park is suited for mountain bikers with beginner through expert skills. 
This area opened in 2018 and we always stop by for a session when we're in town. There are four separate zones that comprise the bike park and it's really, really cool.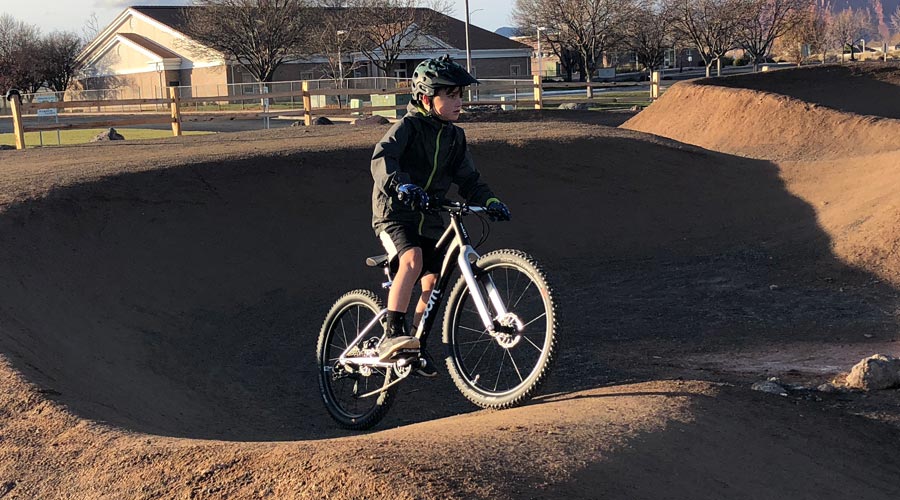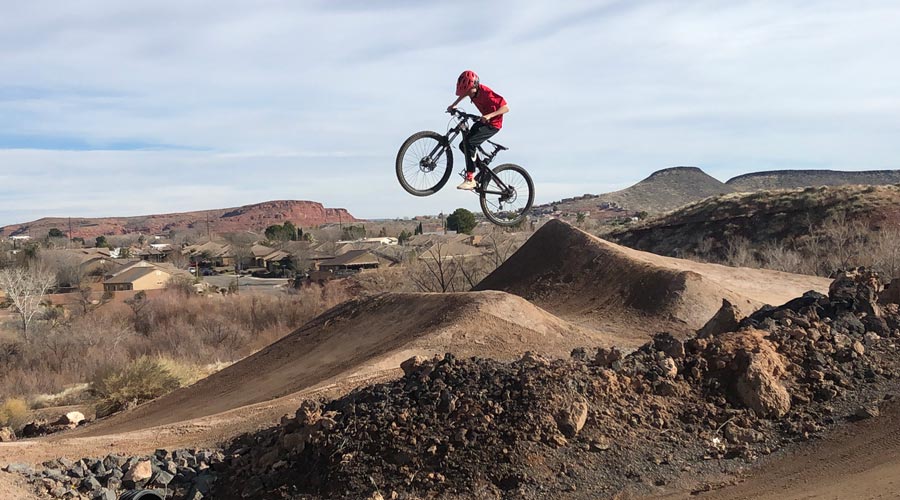 There are jump lines, elevated features, drops, and pump tracks. Even if you're in town for just a day, check this place out. Kids on strider bikes through bros [brōz] on dirt jumpers will be able to spend hours here. Here is our full post for the Snake Hollow Bike Park.
St. George Area Trail Organization And Bike Shops
The Zen trail is best suited for adventurous intermediate through expert mountain bikers.
One of our new favorites for  mountain bike trails for kids in St. George. This trail makes you a better mountain biker because there are several climbs and descents that will only be completed by strong, competent riders. Personally, I'm just not good enough to ride small sections of this trail, so I have no problem walking parts of Zen. It used to take us several hours to do the loop with the kids because we are adhere to the old adage, "Whatever doesn't kill you makes you stronger". This is not a joke. The trail is very pedally. There is plenty of hike-a-bike for anyone less than an expert rider. The trail has a few spots of exposure. When you max out at elevation, you're on a cliff. If you eff up and screw around on the cliff, you could die. Other than that, this trail is a must.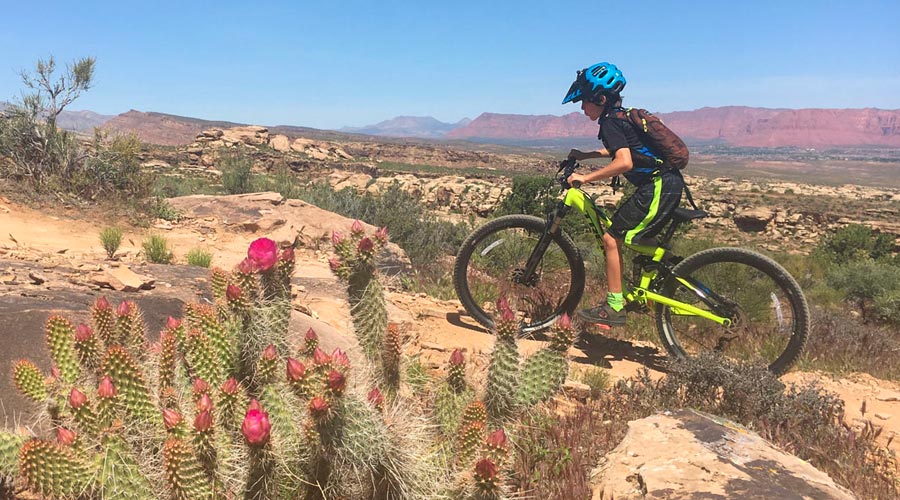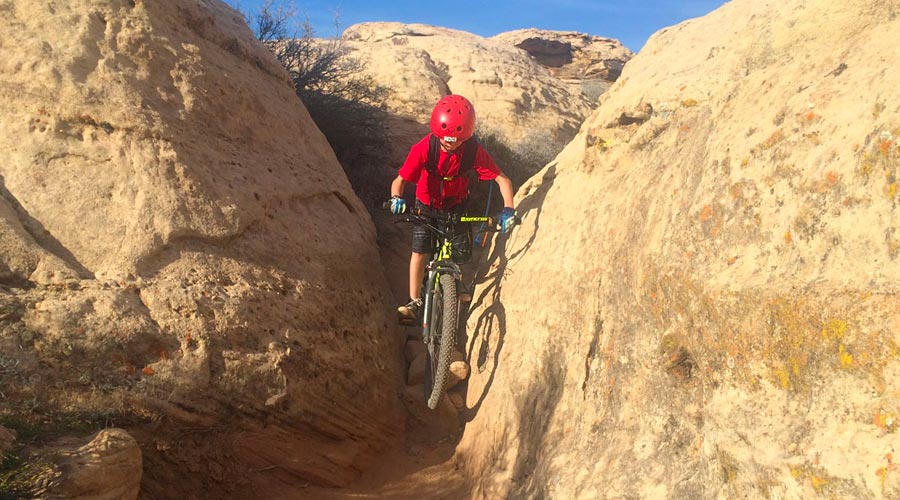 Barrel Roll [not to be confused with Barrel Trail] is a great time for mountain bikers with at least intermediate skills.
This trail is in the Santa Clara vicinity. We love it because it offers great technical climbs and descents. Once you max out in elevation you look off the mesa to the west into a zone of untraveled desert landscape. It's remarkable that there are vacant expanses like this. Ride it clock-wise. The last mile or so has you meandering in and out through a few small gulches. Barrel Roll is absolutely one of our favorite mountain bike trails in St. George.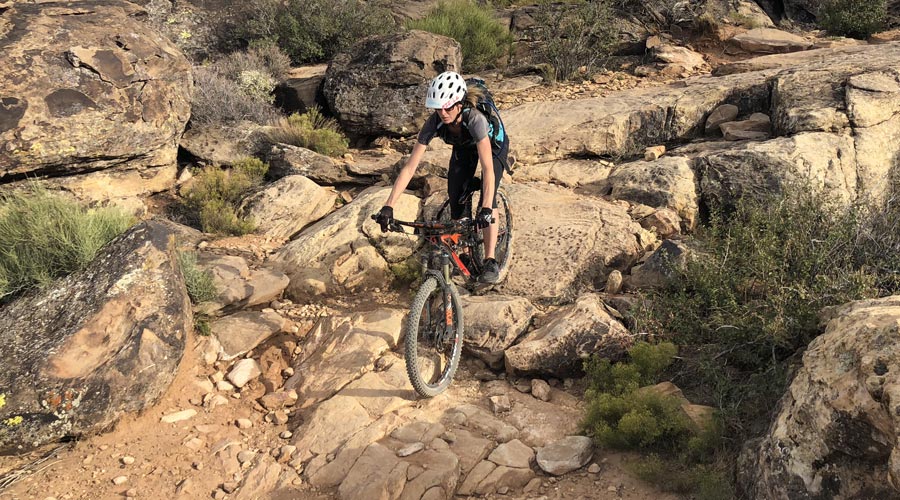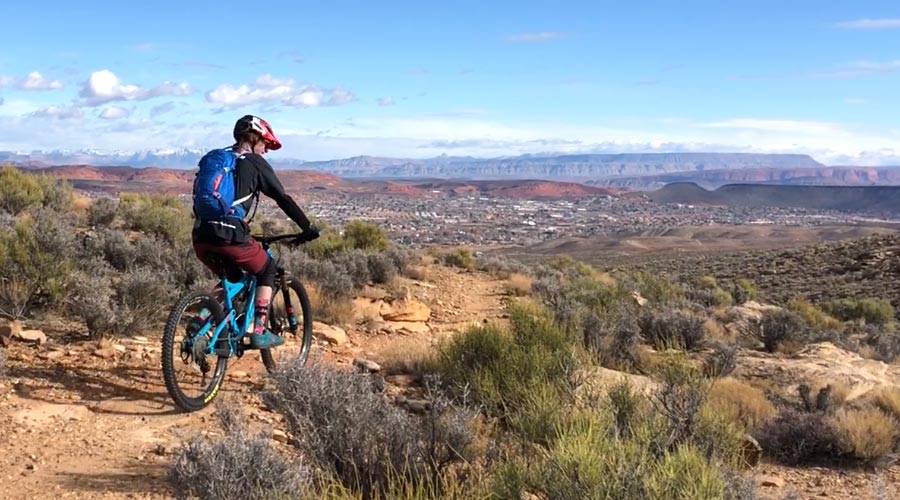 The Guacamole trail is recommended for mountain bikers with at least intermediate skills.
From St. George, head towards Zion National Park/Springdale. After you pass through Virgin, you need to make your way up to Guacamole by taking a left on Dalton Wash Road. On your way up, please be respectful of the small watermelon and pecan farm on the left side of the road when you approach the fork ahead. Slow down and don't kick up dust. Head left when you reach the first fork for the mtb trails as directed by the sign. Stay right at the second fork. You'll eventually end up on the top of a mesa where there's a prominent parking area.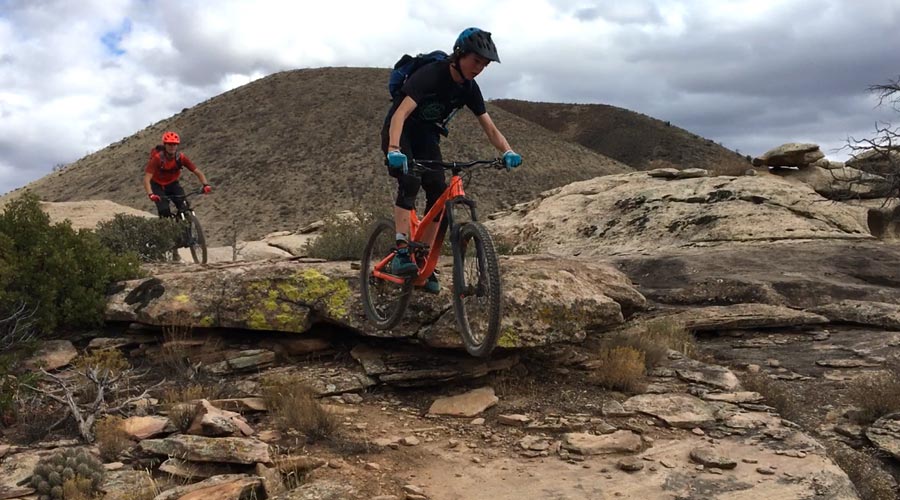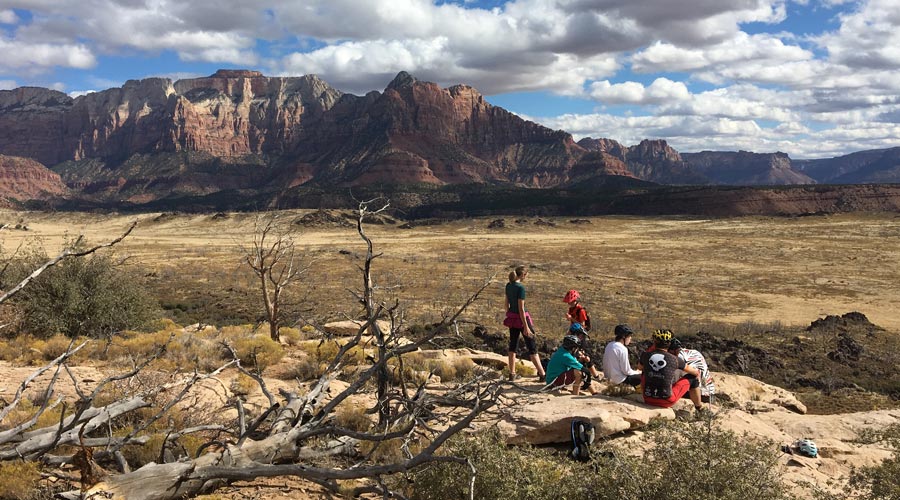 The Guacamole trail is a giant chunk of rock sprinkled with fun, punchy climbs and techy descents. If you're able to ride this trail a few times during the year, you'll challenge yourself to clean climbs and descend without dabs. There are several areas along the trail where you can session features such as steppy climbs, rock rolls and jumps. Review the map and explore options such as Holy Guacamole and Salt On The Rim. There are a few sections of the trail with cliff exposure.
The Old Red Bull Rampage Site
The Old Red Bull Rampage site is recommended for mountain bikers who like to get loose, get air, and get rowdy.
This area is where O-G's Wade Simmons, Cédric Gracia, Lance Canfield and many others made their mark in the Utah desert. Now, led by local riders such as Logan Binggeli, Jeremy Hottinger, Ethan Nell, and Jaxson Riddle, the "Old Rampage Site" is pretty much a free-for-all where you can rip you own lines and experience what has been built up over a couple of decades.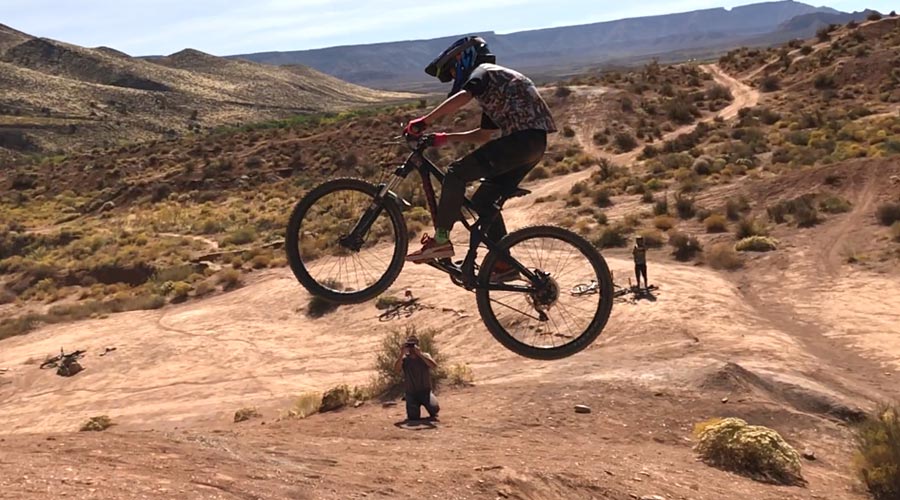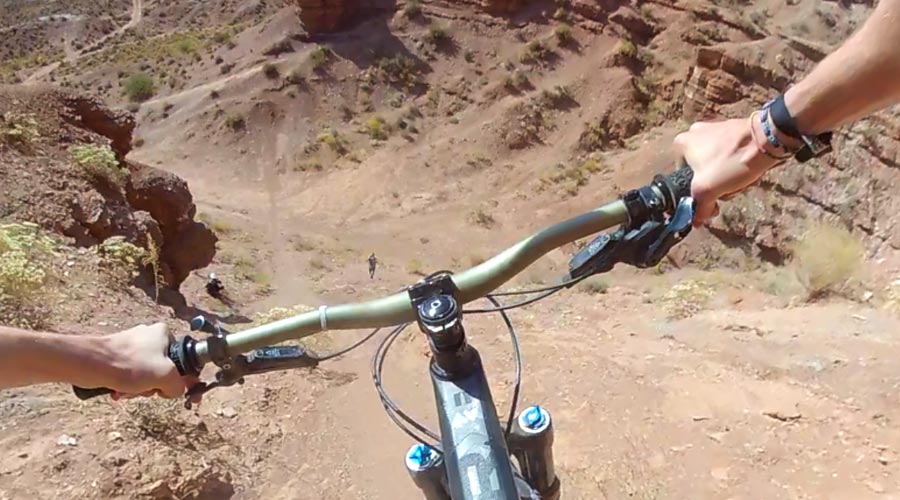 To get to the old Rampage site, turn north out of Virgin on Kolob Terrace Road. Drive past the BMX track on Kolab Terrace Road about a mile and there's an accessible area with a power line on a shallow arete on the left side of the road up a bit from a BLM campground on the right side of the road. You can see a couple of lines from this area, but the good stuff is west of this first parking area. Head up the dirt road to the left. You may have to ride from here if you don't have a high clearance vehicle. There are a lot of features and lines in this zone and it's all unsanctioned. None of the trails in this area are formally named and therefore will not appear on the maps. The Wild Wild West still does exist. You just have to know where to look.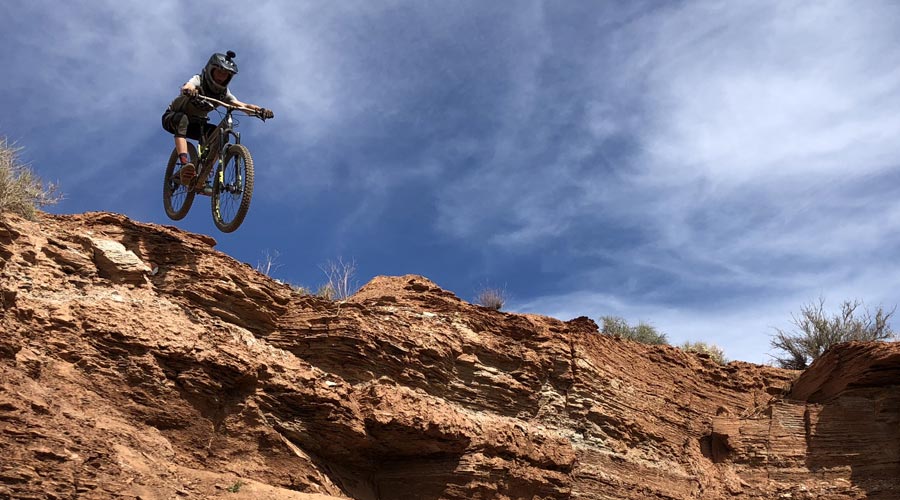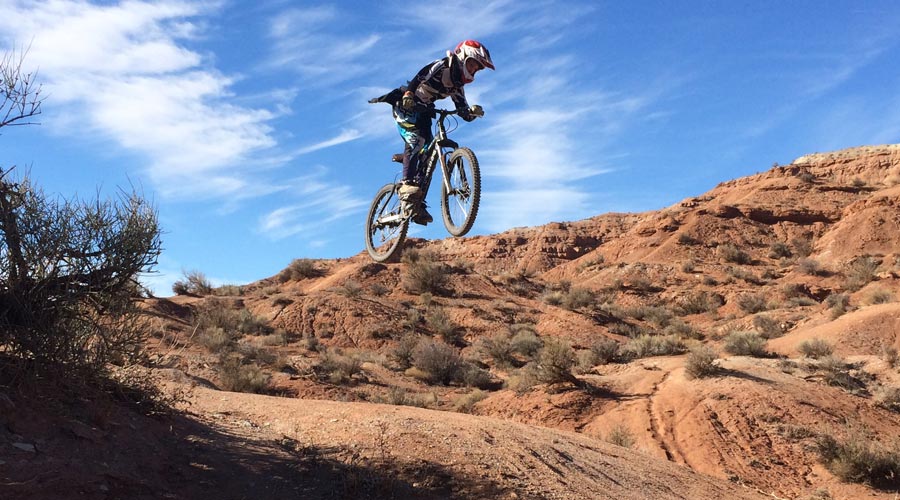 The Best Mountain Biking Trails In St. George Are All Over The Place
The best way to find the best mountain bike trails for kids in St George is going to be speaking with someone at a bike shop in the area you're visiting. Whenever we travel, we stop by a local shop and politely ask where we should ride. We are sure to communicate our skill level, how old the kids are, what type of bikes we have, and if we're up for something easy going or ambitious. Bike shop staff are going to have to the most up-to-date and accurate information. Take advantage of this, and when you're getting data- pick up a shop t-shirt or shop stickers. Better yet, come prepared with a six-pack and hand it over to an employee of age. A little kindness goes a long way.
There are several more trails in the St. George are that are just out there waiting for you. Gauge your family's riding experience; get out there and explore!
Check out our Destinations and Trails page for more fun places to ride and visit! We'd love to hear about your favorite places to ride bikes with your family, too. Share your faves with us on Instagram or Facebook
https://mtbwithkids.com/wp-content/uploads/2020/01/best-mtb-trails-st-george.jpg
470
900
Brett
https://mtbwithkids.com/wp-content/uploads/2016/05/logo-mtbk-400-300x157.png
Brett
2023-01-07 16:15:28
2023-02-26 15:12:08
Best Mountain Bike Trails for Kids In St George, Utah