Mountain Biking Duo from Pisgah Forest – Hannah Dickson used to pogo stick all the time. And according her father, Wes – owner of Sycamore Cycles in North Carolina, pogo sticking was a foray into his daughter's love of mountain biking.
He recalls one day she was in the driveway for two hours on her pogo stick. He went go out and ask her if she was interested in going on a mountain bike ride with him. The balance and conditioning she had gained from being on her pogo stick really served her well for mountain biking. Wes says, "It made it fun for her to mountain bike with me because she was not struggling as much when it came to steep inclines and tougher trails."
Now a teenager, Hannah and her dad have been riding together for several years now and have even done some races. Hannah explains, "I race to push myself and become better".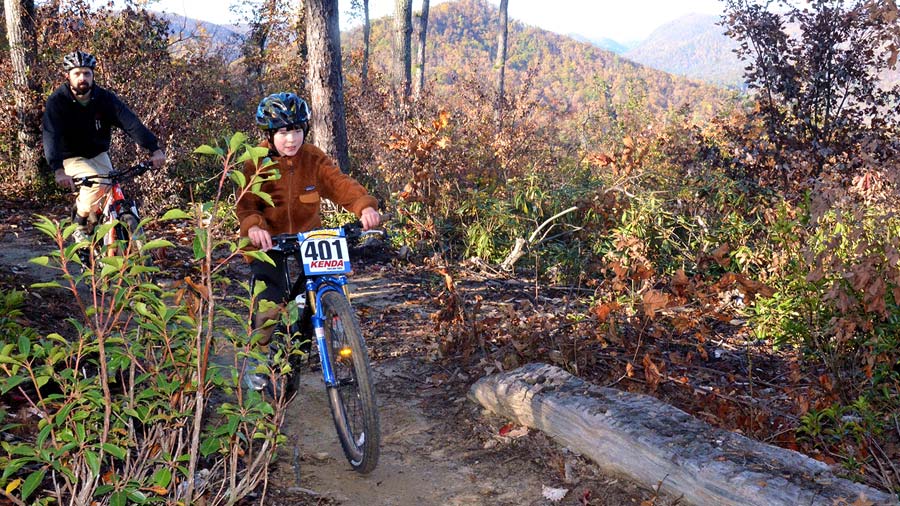 Starting Small 
When Hannah started out on a bike, Striders were not very popular. She started with training wheels and rode local trails and parks. The training wheels came off when she was offered ice cream if she could ride from one end of the local park to the other without them.
Another factor that made riding fun for Hannah was that she always got to pick where they would ride. Wes tells us, "It allowed her to take ownership of the ride and really enjoy it. She often chose the same trails and if there were parts she could not ride, she would walk her bike."
Building Trails Together 
The Bracken Mountain Preserve is a city park with a great mountain biking trail. When Hannah was just getting into mountain biking they were working on the trail. This provided with Hannah opportunities to help out with parts of the project. On volunteer days and Hannah and Wes were able to go and help move brush and do turf work to get the trail ready.
They always say the apple doesn't fall far from the tree. This appears to be true in the case of the Dickson family. Wes's dad was also a bike enthusiast and Wes had started riding with him and also helping maintain trails when he was a teenager. Wes feels lucky to be able to share a similar journey daughter. The Dicksons are proud of giving back to the trails and being able to do it as a family.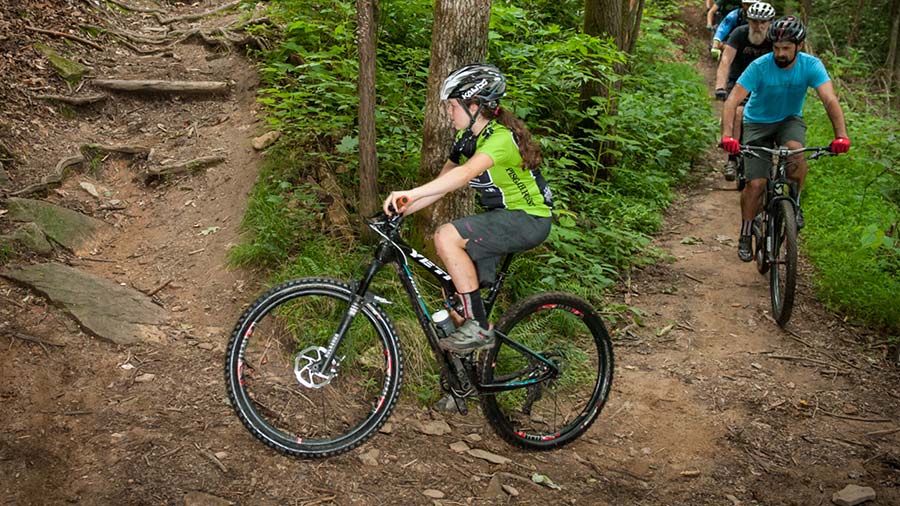 Traveling Together And Sharing Great Times On The Mountain Bikes 
Wes and Hannah have taken daddy-daughter mountain biking trips together as well. Last year, they did a British Columbia trip that was 10 days in length and they were able to ride in different areas. They rode at Powell River and Squamish. The Powell River trip included trails called Death Rattle and Little Dipper. After two and a half days of mountain biking at Powell River they went to Squamish for a few days. When she was asked about her favorite trail in Squamish, Hannah quickly replied "Rupert! I though it was technically challenging but super fun."
Hannah enjoyed the trip and was always ready for exploration and up for adventure – and up early at that. She would be up before 6am and ready to start the day. Hannah still chooses the trails a lot of the time and will ride the same trail over and over if it's one she enjoys.
About Sycamore Cycles
Sycamore Cycles has two locations in North Carolina; one is in Pisgah Forest and the other in Hendersonville. The first one opened in 2000 and it is predominantly a mountain bike store.
The store carries a lot of riding gear and bikes for kids. Parents seem to be putting more money into good quality bikes for their children and the store makes it possible with a special program they run.
The store will buy back used bikes that were purchased there at half the retail value. That money goes toward the purchase of a new bike. So if you buy a 12 inch bike for $200 and your child outgrows it, you can upgrade to a 16 inch bike and receive $100 toward the purchase of the new bike.
Sycamore Cycles also supports Trip for Kids. This non-profit organization provides mountain bike outings and environmental education for youth in the Transylvania, Henderson, and Buncombe counties.
The returned bikes may also be sold at a consignment store with the money going back into the Trip for Kids program. This is a great way for the shop to give back to the community.  Dicksons hope that children who may not otherwise be able to afford a bike are afforded the opportunity to ride.
https://mtbwithkids.com/wp-content/uploads/2017/10/hannah-sycamore-cycles-01-v1.jpg
506
900
Brett
https://mtbwithkids.com/wp-content/uploads/2016/05/logo-mtbk-400-300x157.png
Brett
2017-04-30 13:39:58
2019-12-12 02:48:38
Meet A Daughter-Father Mountain Biking Duo from Pisgah Forest